Merrythought Bears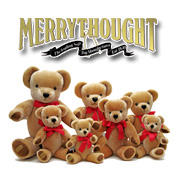 Merrythought Bears is one of the oldest and most prestigious English toy makers, having started production in 1930. In 2006 production of Merrythought bears ceased, but was restarted a year later with a much reduced range of collectable bears, punkies and gollies. Still handmade in Ironbridge in Shropshire, Merrythought bears are sought by collectors all over the world.
Taking a lead from the well known TY company, Merrythought Bears have produced a super range of Cheeky Bears with different countries flags sewn into their feet. The most popular range however is still the traditional 'gold' bears with pivoting arms and legs so they can be displayed sitting, standing or just plain cuddled! Made in a variety of sizes, these bears are designed to be loved with their soft touch and conventional faces.
Merrythought's Great British Bears is a collection of smaller bears that are dressed in a variety of outfits. There is a fireman, chef, footballer, golfer and many more to choose from. Every bear is handmade, and consequently no two are ever quite the same. This adds to the appeal of these beautifully made British soft toys. In June 2011, Fortnum and Mason the iconic London Picadilly retailer, presented Merrythought with their supplier of the year award. This was well deserved recognition of the company's excellent quality, designs and service.
Merrythought's excellent reputation helped them win the licence to make an official range of commemorative bears that celebrated the London Olympic and Paralympic games, as well as recognising London's heritage as previous hosts of the Games. These were made in the traditional style with a beautiful mohair outer covering. Only 2012 of each bear was made in three different colourways - Aqua Green, Pink and Turquoise Blue.
Punkie Bears caught the imagination of both adult and child bear collectors. These gorgeous little bears with their cheeky faces and punk hair styleswere produced in strictly limited quantities. Merrythought also have categories of bears for special occasions such as birthdays, weddings, christenings and Christmas.
RECOMMENDED RETAILERS

Amazon
The world's most famous online retailer sells an unparalleled selection of toys.
Buy Merrythought Bears now >>

Dragon Toys
A teddy bear & soft toy shop selling quality brands.
Read more about Dragon Toys >>