MetroCo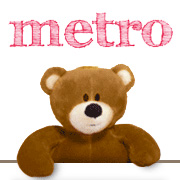 MetroCo - formally known as Metro Soft Toys - was established in the late 1980s and has grown to become one of the UKís leading soft toy design companies. A talented team not only create the most beautiful plush toys for children and adults, but they also design and test the multitude of fabrics that are used in this process.
A large worldwide network of distributors and retail shops ensures that customers can purchase their products wherever they live. The smallest of preschool children love the Tiny Tots ranges of bears and other animals, whilst everyone adores the MetroCo Traditional Teddies. These look just as much at home cuddled up in a childís bed as in their parentís room.
Furry Friends ranges include Monty Monkey and Golden Lion, all available in a selection of different sizes. MetroCo also make some bespoke gifts and souvenirs such as bears dressed as Beefeaters or Policemen. The company also undertakes individual commissions for companies like RNLI or Manchester United to design and produce soft toys in team or corporate colours.
RECOMMENDED RETAILERS

Amazon
The world's most famous online retailer sells an unparalleled selection of toys.
Buy Metro Soft Toys now >>