MI High Toys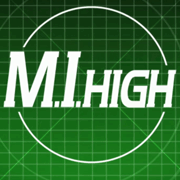 Fast becoming one of the most popular TV programmes on CBBC, M.I. High features the adventures of Rose Gupta, Oscar Cole and Carrie Stewart, three school pupils who secretly work as spies. Their boss is Frank London (Agent M.I.9.) who works at the school as the main caretaker. By using a secret high speed lift in his room, the spies can access the vast spy base thatís located over 200 feet beneath the school.
With video games, DVDs and a live show on stage, several manufacturers are making a selection of MI High toys. Items like action figures, spy equipment, games, playsets and construction toys are have all received the MI High treatment.
RECOMMENDED RETAILERS

Amazon
The world's most famous online retailer sells an unparalleled selection of toys.
Buy MI High toys now >>