Minichamps Toys and Models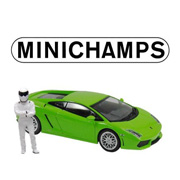 Probably best known as making high quality die cast model versions of almost any Formula 1 racing car, Minichamps also have an impressive selection of other racing cars as well as street cars and military models of tanks and trucks. The incredible attention to detail is what sets Minichamps models apart from their many competitors, as customers know they are buying a highly realistic miniature copy of the real thing!
The sheer range of Minichamps toys and models is simply breathtaking, and whether you are into Alfa Romeos, Aston Martins, Bentleys, BMWs, Porsches or something less exotic like Fords, Volkswagens or Volvos, you can find almost any model variant in any colour you choose. Add into this a sprinkling of trucks and vintage vehicles it means thereís a Minichamps model for almost any collector.
Most Minichamps toys and models are presented in a hard clear plastic case for display purposes, although many are removed so that the owners can admire the extraordinary attention to detail. Itís well known that top racing drivers and motorcyclists have some fantastic artwork on their helmets, and Minichamps even reproduce these designs on a series of miniature helmet versions. With almost as many die cast models of racing motorbikes as the F1 cars, every petrol head in the world eagerly awaits Minichampís new releases.
RECOMMENDED RETAILERS

Amazon
The world's most famous online retailer sells an unparalleled selection of toys.
Buy Minichamps models now >>