Morphy Richards Toys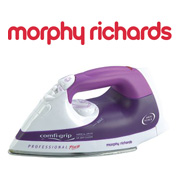 Little boys and girls always want to copy their mums and dads around the home, and when it comes to role play toys, parents can buy their kids almost any domestic appliance in a miniature toy form.
Whilst a Morphy Richards toy iron may not actually get the real job done, itís a brilliant replica model that even features an on/off rocker switch and a pretend button for squirting out steam. More pretend features include an anti-scale device and temperature control knobs for extra realism. Made by Casdon Toys, this Morphy Richards toy can also be purchased as part of a set that includes an ironing board and imitation clothes dryer.
Other Morphy Richards branded toys by Casdon include versions of their top selling toaster and kettle. Whilst they may not boil water or toast the bread, they are accurate replicas of these popular household items. Morphy Richards is well known for providing well made products at competitive prices, and the same values hold true for Morphy Richards toys too.
HERO PRODUCTS
DISTRIBUTORS

RECOMMENDED RETAILERS

Amazon
The world's most famous online retailer sells an unparalleled selection of toys.
Buy Morphy Richards toys now >>