Masters Of The Universe Toys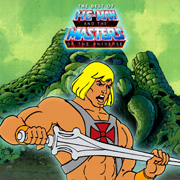 Since 1982, Masters of the Universe toys have been in and out fashion with several generations of boys, all of whom wanted to relate to the powers of the supernatural characters. The franchise was created by US toy giant Mattel from a series of books written by Donald Glut. The toys initially featured the main characters of He-Man, 'the most powerful man in the universe' and Skeletor, 'the evil lord of destruction'.
Living on planet Eternia, the struggle between good and evil is a familiar storyline. Children who lived through that early period will probably remember their great excitement when they were given an awesome Masters of The Universe Castle Grayskull. This showcase toy could be used with the heroic Battle-Cat creature, as well as Battle-Ram and Wind Raider vehicles to add to the play value of all the toys and characters.
Thirty years after that initial debut, Mattel re-launch Masters of The Universe toys in 2012 to celebrate the thirtieth anniversary of this iconic series of action figures and accessories. Figures like Fisto, Shadow Weaver and Thunder Punch He-Man are all part of the great line up of toys. These also include new characters like Fearless Photog and Sorceress.
Collectors are almost as excited as the kids about Mattel's latest incarnation of Masters of The Universe. Special events and promotions are being held throughout 2012 to celebrate the creation of this iconic range of toys. Fans can check out all the latest information about product launches complete with price comparison features on the unofficial Masters of the Universe Toys fan website.
RECOMMENDED RETAILERS

Amazon
The world's most famous online retailer sells an unparalleled selection of toys.
Buy Masters Of The Universe toys now >>