Mudpuppy Toys and Games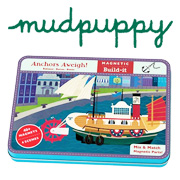 Exclusive and design-led children's brand, Mudpuppy, makes some wonderful children's toys and gifts. From puzzles, sticker sets, magnetic figures and stationery to building sets, games and books, Mudpuppy has it all! Created in the USA, Mudpuppy toys are popular all over the world - and with such a huge selection to choose from, it's no wonder lots of kids have several of their toys in the cupboard.
Mudpuppy puzzles and books are two of their strongest ranges, and all are sold with a unique theme or design to set them apart from competitors – some of the puzzles are sold in wonderfully old fashioned but practical tins, and the books or stickers sets all have an extra element of play value attached to them. Little girls just love the Mudpuppy magnetic dressing up sets to create all sorts of wonderful fashions, and little boys can't resist the 24 piece floor puzzle of the solar system.
An increasing number of Mudpuppy shops selling big selections of these popular toys can be found all over the UK. Some are traditional bricks and mortar shops and others are online only. Whatever outlet a customer prefers, they can be sure that Mudpuppy toys offer great value for money and are of such a high quality that many of them can be handed on to the following siblings.
RECOMMENDED RETAILERS

Amazon
The world's most famous online retailer sells an unparalleled selection of toys.
Buy Mudpuppy toys now >>