Mulholland & Bailie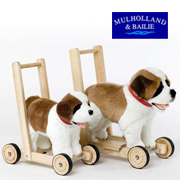 Belfast based Mulholland & Bailie may not have a name that rolls easily off the tongue, but since the late 1960s they've been quietly making wonderful rocking horses and soft push-along toys for generations of happy kids. Using the best possible new materials, every Mulholland & Bailie toy has a luxurious and beautifully soft feel. All of their toys naturally conform to the very latest European safety standards, and they are proud to be members of the British Toy and Hobby Association.
Originally using painted tubular steel as a frame for their soft push-alongs, Mulholland & Bailie changed to wood as a more eco friendly and natural product that can withstand the inevitable bumps and knocks of playtime. Beautiful facial expressions are a keynote feature of the various animal models that include labradors, sheep dogs, dalmations and terriers. Made in different handle heights, not only do they encourage youngsters to walk, they also positively ooze charm and friendliness.
Mulholland & Bailie make some of the finest rocking horses available anywhere, with a choice of wooden bow rockers or the more traditional post mounted hanging style, in natural or stained finishes. Needless to say, the plush finish of the horses is second to none.
Not content with their traditional ranges, Mulholland & Bailie continue to invest in producing other toys like desks and chairs, shape sorting vehicles, blackboards and activity sets. Their products can be purchased from many different independent toy shops, multiple stores and a selection of online retailers. Their tag line of "Making the World That Little Bit Softer", sums up the ethos and approach of this much loved British manufacturing company.
RECOMMENDED RETAILERS

Amazon
The world's most famous online retailer sells an unparalleled selection of toys.
Buy Mulholland & Bailie rocking horses now >>