Mumbo Jumbo Toys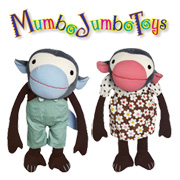 Created in 1999, Mumbo Jumbo Toys are the UK distributors of many European based traditional and luxury toy brands and licences. Their products cannot be found in supermarkets or mass online only retailers. Instead they prefer to channel distribution through a growing number of specialist independent toy retailers. These can not only display the products properly, but also who have great product knowledge to impart to their customers.
Mumbo Jumbo Toys are suppliers of French designed and made Janod wooden toys that are amongst some of the best in the world. Kaloo, also French, is well known as the ultimate brand for baby products. From Holland comes Happy Horse colourful and humorous nursery toys, whilst from Denmark the soft toys from Franck & Fischer are designed with great attention to detail and have tremendous play value.

British company Skipper are best known for their selection of pond yachts together with a traditional range of heritage toys - and Mumbo Jumbo distributes these too. Also under their wing is Bead Bazaar which make children's 'make it yourself' jewellery products. This American brand encompasses great colours, materials and designs in a wide range of individual items and sets.
Other brands and licences are added from time to time as Mumbo Jumbo seeks to maintain their unique position as a supplier of high quality toy products.
RECOMMENDED RETAILERS

Amazon
The world's most famous online retailer sells an unparalleled selection of toys.
Buy Mumbo Jumbo Toys now >>