Nattou Toys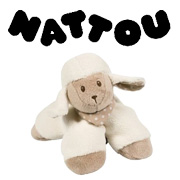 With many of their gorgeous soft toys being suitable for children from birth, Nattou toys have wonderful expressions, attractive soft colours and are safe to give to the very smallest members of the family. From the smallest rattle to a musical pull string elephant, Nattou toys are the first choice for many new parents.
The wide range of Nattou mobiles are second to none, and incorporate bears and many other animals to stimulate a baby's senses, as well as providing an introduction to various sounds. Playmats with arches, comfort blankies and other musical pull-string Nattou toys bring constant delight and stimulation for babies and very young children.
Kids love the Nattou giraffe, elephant, lion or cow soft toys, and with the extra musical features, these beautiful soft toys are guaranteed to be bedtime favourites for many years. Nattou's clever combination feeding pillow and activity cocoon is another great example of the thought and design that goes into all of their products which provide exceptional value for money. Nattou's rockers are particularly well regarded - with the Elephant, Giraffe and Butterfly rocking animals being among our favourites.
RECOMMENDED RETAILERS

Amazon
The world's most famous online retailer sells an unparalleled selection of toys.
Buy Nattou toys now >>

Babe-equip
Wide range of baby toys and nursery equipment including travel systems.
Read more about Babe-equip >>