Natures Purest Toys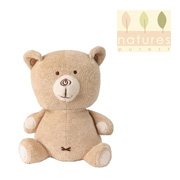 Natures Purest toys and clothing are proudly made from the finest organic cotton. Guaranteed to be free from all polluting chemicals, organic cotton is the most natural and best fabric to have next to a baby's sensitive skin. Blankets, bodysuits, snuggle buddies and soft cuddly bears are just a few of Natures Purest clothes and toys.
Parents can buy almost all of their new baby's requirements from Natures Purest, including bedding sets, sleeping bags, towels, bathrobes, and even a gorgeous moses basket lined in the finest organic cotton. To complete a nursery as well as the toys, Natures Purest curtains and tie backs, lampshades, changing mats and cot tidies will help to complete a matching room that will give baby a sense of peace and tranquillity.
One of Natures Purest most popular toys is their Hug Me Bear. Cuddly and soft, with a mischievous embroidered face, this velour bear will enchant and delight children all over the world. Cuddle pets, snuggle buddies and soft activity bricks are all part of Natures Purest toy ranges, and with great attention to high quality and safety, it's no wonder that more and more customers are choosing Natures Purest toys as their first choice.
RECOMMENDED RETAILERS

Amazon
The world's most famous online retailer sells an unparalleled selection of toys.
Buy Natures Purest toys now >>