NessToy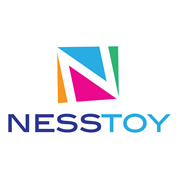 With the tagline "Creativity. Technology. Innovation" NessToy was launched in 2017 with the aim of merging brilliant innovation with the highest quality materials to up the game of toy standards.
The company's brands include KidzLane, KidiRace, Little Experimenter and the Armogear Laser Battle game which scooped a gold medal in the 2018 Independent Toy Awards.
NessToy works across a very broad range of toy sectors – electronic, musical, roleplay and scientific to name but a few – yet all share the same mission to help kids exert healthy creative, educational and physical energy through top-quality products.
HERO PRODUCTS

RECOMMENDED CATEGORIES

A constant flow of new toys that are good for your child's development.
Visit the Educational category >>

Shop for kids tablets, animatronic pets and many other electronic toys.
Visit the Electronic category >>

Find traditional toy xylophones, recorders and electronic drum kits here.
Visit the Musical category >>