Nici Toys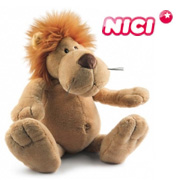 Nici began life in 1986 as a small, family-run stuffed toy manufacturer, operating from premises in Michelau, Germany. Since then, Nici toys have become popular around the globe and their name is now synonymous with impeccable standards of materials and workmanship.
Various UK distributors have handled Nici toys over many years, and in 2012 the company announced a long term partnership with Great Gizmos to handle sales to all of their UK retailers. By expanding ranges and collections, Nici toys are found in nursery and toy shops as well as a selection of gift retailers around the country.
Anyone who's had the opportunity to hold and play with a Nici toy can spot them a mile off. Their designs have a timeless yet contemporary feel - and even though Nici do now produce licensed characters for the likes of Shaun The Sheep, the majority of their ranges are own-brand creations. Nici has had many popular characters over the years, although among the most famous has to be the Wild Frends and Jolly Sheep ranges. These adorable soft toys sum up everything that Nici stands for... creativity, enthusiasm and liveliness.

Nici employs over 400 people consisting of designers, product developers, marketing managers and logistics specialists. Although stuffed soft toys continues to be their mainstay, don't be surprised if you spot the Nici logo on other items such as dressing gowns, stationery, t-shirts or even cosmetics. Such is the love and respect for Nici toys, that the company has granted licences to various non-toy manufacturers to spread the Nici brand far and wide.
DISTRIBUTORS

RECOMMENDED RETAILERS

Amazon
The world's most famous online retailer sells an unparalleled selection of toys.
Buy Nici toys now >>