Oskar and Ellen Toys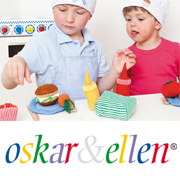 Founded in 2000 at the turn of the century, oskar&ellen (the names of the owner's children) have a simple business concept - to develop, make and sell innovative, fun and colourful products that engender role play and imagination amongst children all over the world.

All of the products are handmade in the Philippines. They are not mass produced, which helps to ensure that the toys retain a sense of uniqueness. oskar&ellen is a Swedish brand known for its high quality products, individually made with unrivaled attention to detail. If you are looking for a present with that extra special touch, all oskar&ellen toys come with their own reusable mesh bag with cute fabric edging.
Categories of toys include games & music, interactive books & wall hangings, nursery items as well as toys for pretend play, and the ever popular play bags.
RECOMMENDED RETAILERS

Amazon
The world's most famous online retailer sells an unparalleled selection of toys.
Buy Oskar and Ellen toys now >>

Crafts 4 Kids
Online retailer of creative, educational, wooden and activity toys.
Read more about Crafts 4 Kids >>

Just Great Toys
Online boutique toy store with suggestions by age, category and brand.
Read more about Just Great Toys >>

Spotty Giraffe
Wonderful online toy boutique that offers a fantastic choice of toys and gifts for all ages.
Read more about Spotty Giraffe >>

The Little Lavender Tree
An online retailer selling products from well known UK manufacturers and brands.
Read more about The Little Lavender Tree >>