Ozbozz Toys and Scooters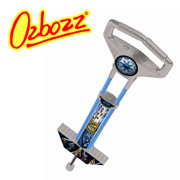 Founded in 1946, H.Grossman is better known as HGL, with a strong overall brand name of Ozbozz. Positioned at the budget end of the market, Ozbozz offers great value for money. The company is probably best known for their kidís scooters, starting with a four wheel model that provides great stability for young children. Constant product development sees changes in colours, wheels and graphics, but Ozbozz scooters all share the same build quality and excellent value.
Some of the HGL Ozbozz scooters feature a flashing light system built into the deck. This aspect of their design appeals to younger children who like to show off to their friends. Most models in the range have adjustable handlebars and a simple folding mechanism to save space when not being used. Popular colours like red, pink and blue are used throughout the Ozbozz scooter range - and they also make licensed products that contain graphics and logos from popular TV shows.
In addition to scooters, Ozbozz toys also include pogo sticks, trikes, skateboards and see-saws as well as a very comprehensive range of pocket money toys, some of which are advertised on TV. Classic favourites include water wrigglers, farm animals, glitter balls and yo-yos as well as hundreds more popular toys. Their licensed branded products include Spongebob Squarepants, Transformers and Ben 10 with new ones being added all the time.
All of these Ozbozz toys can be purchased from hundreds of outlets throughout the UK - both online and from traditional bricks and mortar stores.
DISTRIBUTORS

RECOMMENDED RETAILERS

Amazon
The world's most famous online retailer sells an unparalleled selection of toys.
Buy Ozbozz scooters now >>