Panini Shops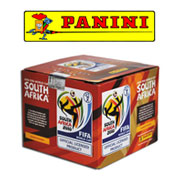 With headquarters in Italy, Panini is a truly global company whose products are sold to children and collectors all around the world. Through various subsidiary companies they produce magazines, comics, books and most famously of all, the Panini sticker and trading card collections. Originally sold mainly through newsagents in the UK, the ranges are widely available in toys shops, supermarkets and various online sellers.
The Panini sticker sets are cleverly sold in sealed packets – this encourages playground collectability and swapping amongst youngsters who are trying to fill their album with every sticker available. Some very early examples of Panini stickers made in the 1960s and 70s can command extraordinarily high prices at specialist auctions. By signing licences for most major kids films and TV shows as well as football teams and competitions, Panini have cornered the market in this highly collectable business.
Panini trading cards accompany the stickers as promoting collectability, and many of these have a game associated with them to encourage extra purchases. The football team sticker collections even have armies of adult fans who want to complete a set for their own use and enjoyment. By signing licences to produce Panini sticker collections for many important global events, the company continues to grow and expand its worldwide presence.
RECOMMENDED RETAILERS

Amazon
The world's most famous online retailer sells an unparalleled selection of toys.
Buy Panini stickers now >>