Peaceable Kingdom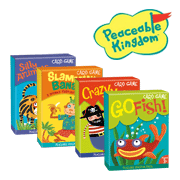 Created in the USA in 1993, Peaceable Kingdom has an inspiring motto of 'Make good, do good, be good!' They use recyclable materials whenever possible, respond to individual customer queries and look after their employees and retailers. The company has a great reputation throughout the toy industry and is popular for its ranges of children's games, books, stickers and birthday cards.
The award-winning Peaceable Kingdom co-operative games encourage children to play together rather than against each other. Board games like The Great Cheese Chase and Hoot Owl Hoot! are classics that have stood the test of time. Matching up games like Funny Food or Monster Colours are fantastic for younger kids to memorise certain shapes and colours and encouraging observational skills.
Diary books are popular for both boys and girls - and written secrets can be kept safe with the cleverly designed padlock clasps. Most kids love placing stickers on all of their possessions, and a big selection from Peaceable Kingdom has all the popular themes well covered. Whether it's Funny Food, Glow-in-the-Dark, 3D or Temporary Tattoo stickers, there's a set that will appeal to both boys and girls. Check out the awesome sticker activity books too. These include themes like monsters, dinosaurs and fairies.
RECOMMENDED RETAILERS

Amazon
The world's most famous online retailer sells an unparalleled selection of toys.
Buy Peaceable Kingdom games now >>