Pinflair Craft Supplies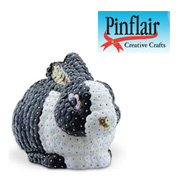 Pinflair Creative Crafts is a specialist craft supplier that sells pretty much every craft material you could ever need. As well as staple favorites such as glues, beads, fabrics, card and sequins, Pinflair is constantly updating their ranges with new products. Pinflair supplies to the trade as well as to the public and has a high presence on several satellite TV channels including Ideal World Freeview and Create and Craft.
The company exhibits at various crafts shows such as Hobbycrafts and The Big Stamp Show, and can provide discounts for online orders over a certain value. As well as stocking products from well-known craft manufacturers, Pinflair also has an extensive own-brand range of products which includes sequin kits, ornaments and seasonal items.
RECOMMENDED RETAILERS

Amazon
The world's most famous online retailer sells an unparalleled selection of toys.
Buy Pinflair craft products now >>