Quinny Shops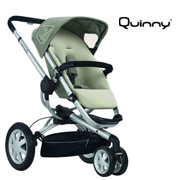 As part of the massive Dorel Industries Group, Quinny strollers and pushchairs benefit from access to a huge research, development and design section that is constantly improving and developing new ideas and materials. Clever and compact folding actions, lightweight but strong materials and above all functional design, help Quinny strollers to be some of the most popular in the market.
Great names like Buzz, Zapp, Speedi and Senzz all help to convey the impression of ultra modernity that appeals to busy mums and dads who are always on the go. Quinny pushchairs and strollers mainly feature a triangular design of chassis, with two wheels at the back and a single or closely matched pair at the front – this gives them great manoeuvrability when negotiating narrow entrances or around shops with narrow aisles. Customers can purchase many different extras according to their needs, like rain hoods and covers, parasols or even foot muffs for cold days.
With distributors situated all over the world, Quinny strollers and pushchairs appeal to a massive global base of customers that means a huge scale of production – this helps to keep prices to a minimum whilst providing fantastic value for money for the end user.
RECOMMENDED RETAILERS

Amazon
The world's most famous online retailer sells an unparalleled selection of toys.
Buy Quinny strollers now >>