Recent Toys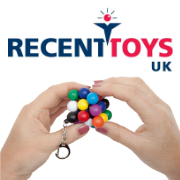 Recent Toys UK launched in 2017, a UK & Ireland dedicated subsidiary of Recent Toys International.
Collaborating with world renowned puzzle inventors, Recent Toys UK produce unique brainteaser puzzles for all ages and abilities. They are the exclusive distributor of the world famous Meffert's™ puzzles which include the Pyraminx, which is even older than the classic cube puzzle.
Recent Toys UK ensure all of their products are manufactured to the highest standards, making them built to last. The brainteasers are always simple to explain, but challenging to solve and very addictive.

Recent Toys UK believe puzzles offer many educational benefits too, supporting learning in strategy, spatial awareness, fine motor skills and S.T.E.M.
RECOMMENDED CATEGORIES

A constant flow of new toys that are good for your child's development.
Visit the Educational category >>

Children's games stimulate the mind and encourage competetiveness.
Visit the Games category >>