Santoys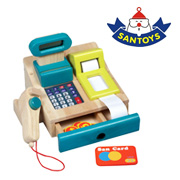 Using wood as the primary source of raw materials for its products, Santoys huge ranges of games, toys and kids furniture are popular choices for children the world over. The name Santoys has come from the title of the firm known as Santa's Toys, and whilst their products are of course sold all year round, the main emphasis of production is towards the festive season.
Santoys toys are all designed, developed and manufactured by the companies own teams, which ensures that all aspects of the business are strictly controlled. The Santoys games take popular favourites such as shut the box, and create a slightly different emphasis of design. The general Santoys toy ranges are divided into many categories including education, concentration, imagination and construction. All of the toys within each range are of high quality and brightly coloured with child friendly paints to encourage children to pick them up and play.
Many of the Santoys traditional toys will be familiar to many customers and include items like food scales, push-a-long cars, wooden trains or even cash machines. Some terrific rocking toys such as the giraffe or the circus themed baby walker are all popular favourites.
RECOMMENDED RETAILERS

Amazon
The world's most famous online retailer sells an unparalleled selection of toys.
Buy Santoys now >>