SES Creative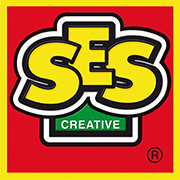 SES Creative have been making toys since 1972. Their bespoke 20,000 m2 head office and factory is where all their products are designed, manufactured and tested ensuring they maintain the highest standards and adhere to all quality requirements.
The business produces a wide variety of craft and toy products ranging from casting and painting, finger paint, modelling dough, beads, hobby, nursery, STEM and Outdoor products to name a few.
SES Creative toys are fun and enjoyable and are focused on ensuring that children can achieve fantastic end results every time. The products allow children to be happy and proud of their work, encouraging them to share this joy with their parents.
Safety and quality are of paramount importance, and the protection of children and the environment are key values for SES Creative. To support this, they have their own in-house laboratory, where the products are subjected to the most stringent tests and quality control.
All SES Creative products comply with international guidelines.
Creative thinking and play contribute to the early development of a child and the business always keep that in mind while developing new products. Their products aim to develop expression, empathy and creativity. Focusing on the basic and fine motor skills for ages 1-6 to more advanced skills and tasks for the older end user.
RECOMMENDED CATEGORIES

Children's imaginations soar with the finest in creative toys.
Visit the Arts & Crafts category >>