Shrek Toys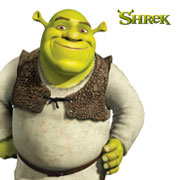 Having won so much popular recognition, it's no surprise that the first Shrek film released in 2001 has not only inspired follow-on animated films but also a huge range of Shrek toys and related merchandise.
Fans of Shrek were hugely enthusiastic about the fourth feature film in the franchise - and the film was successful enough to inspire a brand new range of plush toys of the main protagonists. There were also plenty of playsets, soft toys and figures of brand new characters such as Rumplestiltskin - and there are now literally hundreds of Shrek-branded toys and other products available.
In addition to the soft toys and action figures, there are various other games, gifts and gadgets on the market. This includes a Shrek-themed Monopoly, a fridge magnet set and a handheld video game from Vivid Imaginations.
RECOMMENDED RETAILERS

Amazon
The world's most famous online retailer sells an unparalleled selection of toys.
Buy Shrek 4 toys now >>