Siku Die-Cast Toys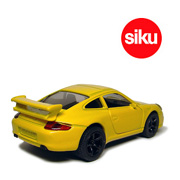 Since 1954, German made Siku toys and models have been recognised as one of the world's leading suppliers of high quality replica models of thousands of different vehicles. Initially made in plastic, the change to Siku models made of die-cast zinc was made in 1963, and since then almost every conceivable form of transport has been miniaturised by Siku.
Siku models are well known for their extremely high quality, and high percentage of die-cast metal to plastic. This makes them heavier and more robust than most of their competitors. With models ranging from "Matchbox" size cars up to large models of tower cranes, Siku toys have most of the market covered. Public service vehicles such as fire engines, ambulances, police cars and buses are sold alongside Siku modern, classic and racing cars, commercial vans and lorries, military tanks and helicopters plus the hugely successful range of 1/32 scale farm vehicles and implements.
Advances in technology and modern production means that some Siku toys and models are now powered by radio control. This Siku developed multi function system allows large scale lorries and trucks to be realistically operated by a simple hand unit which incorporates channels for working lights, indicators, trailer release, steering and movement!
RECOMMENDED RETAILERS

Amazon
The world's most famous online retailer sells an unparalleled selection of toys.
Buy Siku toys and models now >>