Skipper Toy Boats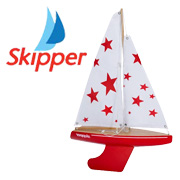 Starting life as a manufacturer of wooden sailing yacht toys, Skipper Toys have expanded into a supplier of many traditional wooden toys that are as relevant to todays children as they were when first introduced many years previously. By constantly adding to their selections, their wooden go-karts, balance scooters or sit and ride toys are up to date and enjoyed every day by thousands of children all over the UK.
The Skipper Toys yachts are made from sustainable hardwood and fitted with a metal keel. Varnished decks and genuine cloth sails add the finishing realistic touches, and they are produced in a range of sizes to suit all budgets. Wooden bows & arrows as well as swords, shields, crossbows and catapults are just a few more of the wooden toys produced by Skipper. Their products are distributed in the UK by Mumbo Jumbo Toys.
Crazy creatures are great ride-on toys for youngsters. They feature castor wheels, a strong plywood base and a vinyl wipe clean cover They're supplied in several designs featuring ladybird, pig, bee and others animals. Skipper Toys traditional wooden toys are strongly built to withstand repeated use, and what little boys and girls wouldn't have fun with a wooden farm, castle or dolls house that all form part of these ranges.
RECOMMENDED RETAILERS

Amazon
The world's most famous online retailer sells an unparalleled selection of toys.
Buy Skipper Toys now >>