Skyrocket Toys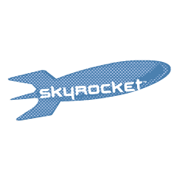 Although a relative newcomer to the toy scene, having been formed in 2010, Skyrocket Toys is run by a small group of toy industry experts who know a thing or two about designing and marketing toys that are both practical and innovative.
Their very first product called Meon was certainly unique. It allows budding artists to create their own designs using the specially developed flexible neon tubes. Kids have a choice of creating designs to a template featuring popular film characters, or let their minds run wild to make whatever pattern comes into their head.
Nelo Lucich and John Ardell are the brains behind Skyrocket Toys, both having held important management positions at Jakks Pacific as well as other major toy companies. We can expect to see many more successful lines developed by Skyrocket Toys whose products are virtually guaranteed to be original and appealing to a wide range of age groups.
RECOMMENDED RETAILERS

Amazon
The world's most famous online retailer sells an unparalleled selection of toys.
Buy Skyrocket Toys now >>