Smart Trikes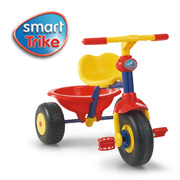 As one of the world's leading tricycle manufacturer and suppliers, Smart Trike distributes its products to over 40 countries around the world. By adding extra play features to all of their children's trikes, they provide high quality toys at affordable prices. As well as making their products in the usual bright, bold colours including pink for the girls, they have some fascinating other ideas for theming their trikes.
Yellow with black stripes is the bee trike, green is for the frog version, and black and white for the cow model – how alternative is that! Their innovative solutions to providing a great selection of children's trikes even includes 3-in-1 models that will grow with the child, and are suitable for kids aged 10 months to 3 years old. At the youngest age a clever restraint system clips to the handlebars to prevent your child falling off and some of Smart Trike's models even include a rocker base for the smallest infants.
Parental guidance handles are a big feature of modern children's trikes, and Smart Trike's models virtually all have this feature - the handle can be easily removed when the child is confident enough to pedal around on their own. The provision of sun canopies for really hot days is another great idea from Smart Trike, as well as removable storage bins on the back of some models for transporting around other important playthings.
RECOMMENDED RETAILERS

Amazon
The world's most famous online retailer sells an unparalleled selection of toys.
Buy Smart Trike ride-ons now >>