Snazaroo Face Paints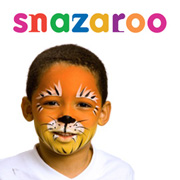 Proudly living up to their company slogan "The world's favourite face and body paint", Snazeroo make a terrific selection of face paints and kits, as well as accessories like sponges, brushes, temporary tattoos and skin jewellery. Established in 1989, Snazeroo are one of the world's leading brands of water based body and face paint. They naturally comply with all cosmetic and toy regulations, and by being water based they are safe and very easy to apply and remove.
Snazeroo face paints come in an impressive selection of colours that include classics, metallic and beautiful sparkling shades. If you're looking for something a bit more adventurous you could try the amazing Special FX range that includes dark and light gel blood, or even tooth wax to create the illusion of missing teeth! Some of the most popular items are the Snazeroo face painting sets that include everything you need to paint your youngster's face like a fiery pumpkin, a little devil or even a ghastly ghost! Don't worry though if these sound a bit scary, you could always try the clown or butterfly sets.
There's plenty of Snazeroo shops situated all over the UK, and if you have trouble locating a traditional stockist there's lots of online sellers as well. Easy to follow guides on Snazeroo face painting help the amateur artist obtain a fantastic result, but if lots of kids are going to a birthday party, a professional face painter can be employed to get the job done in no time!
RECOMMENDED RETAILERS

Amazon
The world's most famous online retailer sells an unparalleled selection of toys.
Buy Snazaroo face paints now >>