Spook Toys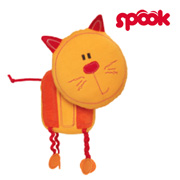 Categorised into three main sub-brands - Spook Baby, Spook Creations and Spook Luxe - Spook Toys are designed to be warming, distinctive, imaginative and cheerful. Designed in Belgium and produced in Asia, Spook Toys comply with CE and SGS certified quality marks and have a wonderfully unique style that seperates them from almost every other soft toy company. The company is even able to design and produce totally bespoke textile products for individual companies or shops.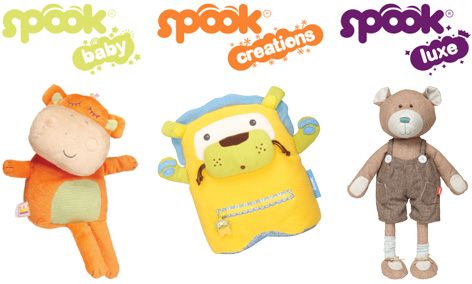 With names such as Celery Cow, Flic-Flac Duck and Toot Owl, the highly expressive range of soft toys in Spook's baby range all have wonderfully sleepy expressions and are made with a soft palette of huggable fabrics. As well as a large range of delightful cuddly toys, this range also includes cot mobiles, activity mats, rattles and comforters. All products are designed to help with a baby's eye, ear and hand co-ordination.
If you like your soft toys to have fun faces and squishy bodies you really can't do much better than Spook's Creation range. Known as Qubys, these half-square, half-round plush toys include characters such as Monkeyzor Monkey, Bunnyhop Rabbit and Kittypop Cat. They are great fun to hold and play with - and they come with the same quirky and enchanting expressions that is a common theme throughout Spook's ranges.
Designed to last for many years, the soft toys in Spook's Luxe range are made from the finest fabrics and have the most incredible detailing. Each item comes in a gift box for handing down from one generation to the next.
RECOMMENDED RETAILERS

Amazon
The world's most famous online retailer sells an unparalleled selection of toys.
Buy Spook Toys now >>