Steiff Bears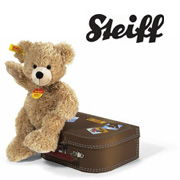 The first Steiff product to be created way back in 1880 was not actually a teddy bear at all - but a felt elephant that was intended for use as a pincushion. The company gradually added more animals to its collection and the very first Mohair Steiff bear was launched in 1902.
The American President at the time, Theodore Roosevelt, was a passionate bear hunter - and he was often depicted with small bears in political cartoons at the time. His nickname "Teddy" helped to bring the term "teddy bear" into widespread use - and this term is now synonymous with all soft toy bears.

Steiff's ingenious idea of including a 'button in ear' to distinguish Steiff bears from other cheaper copies helped to secure the company's worldwide acclaim. When the company's founder, Margarete Steiff, died in 1909, Steiff was already one of the biggest names in the toy industry - and it continues to go from strength-to-strength with numerous new products launched each year.
The UK has some terrific Steiff bear retailers - and we have listed some of the very best below.
RECOMMENDED RETAILERS

Amazon
The world's most famous online retailer sells an unparalleled selection of toys.
Buy Steiff bears now >>

Steiff Teddy Bears
Cherished by owners all over the world, their teddy bears are of the highest quality.
Buy Steiff bears now >>

Dragon Toys
A teddy bear & soft toy shop selling quality brands.
Read more about Dragon Toys >>