Stokke Nursery Products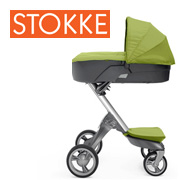 Founded in 1932, Stokke has produced many different ranges of furniture for various applications, but since 2006 has concentrated only on supplying the needs of an ever expanding nursery market. Stokke nursery products are well known worldwide for their high quality and innovative design solutions with items like highchairs, beds, changing tables, strollers and storage systems all getting the special Stokke treatment.
The Stokke stroller travel systems are produced as complete units and include such things as seat padding, rain hoods, shopping bags and mosquito nets as standard features. Bold striking colours like beige, red, purple, green and dark navy are offered as fabric options and help to enhance the funky yet practical designs. The Stokke Tripp Trapp highchair is designed with an adjustable height seat that can be lowered as the child grows - an ingenious and practical cost saving solution that can be purchased in twelve different colours to suit any decor.
Stokke nursery furniture is widely bought by parents wanting functional yet stylish cribs, cots, and storage elements. The Stokke changing table in particular can be adapted and adjusted to eventually turn into a child's first desk or even a bookshelf. Available worldwide, Stokke nursery products are popular choices for modern and busy parents.
RECOMMENDED RETAILERS

Amazon
The world's most famous online retailer sells an unparalleled selection of toys.
Buy Stokke products now >>