Strider Balance Bikes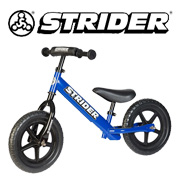 Known as no pedal bikes, Strider Bike are industry leading manufacturers that make a series of innovative super light children's balance bikes that reduce the need for parents to ever buy a trike or a bike with stabilisers again.
With bikes as light as 2.2kg, all children can ride from as soon as they can walk. Kids sit really low to the ground and quickly learn to balance with confidence and coordination in a safe but fun way. By not having pedals, chains or cables to get in their way, kids quickly master the skills needed for when they move onto a pedal bike when older.
Strider balance bikes can be bought for kids as young as 18 months old, and include extra-long seat extension seat post so they can be used up until the age of 5. Available in a choice of colours to suit boys and girls, they have an inbuilt patented foot rest so kids have somewhere to put their feet to mimic where pedals will be on their bigger bikes later.
Available from a wide variety of Indendent toy and bike shops, cycling instructors and tracks, Strider balance bikes are a great alternative to traditional bikes with stabilisers that kids just find too heavy! With so few parts to maintain, and exclusive puncture proof tyres, it is no surprise Strider balance bikes have taught over 1 million children in 70 countries to ride.
Regular Strider sessions and racing compliments the brand by giving children the opportunity to ride alongside others.
RECOMMENDED RETAILERS

Amazon
The world's most famous online retailer sells an unparalleled selection of toys.
Buy Strider Balance Bikes now >>