Supertramp Trampolines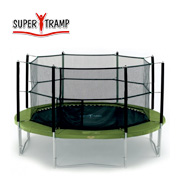 As specialist trampoline suppliers, Supertramp are the experts and sell a massive range of trampoline sizes and accessories. With trampolining being the UKís No.1 kidís favourite outdoor activity, safety is paramount, and Supertramp accessories include all the latest specification enclosures, ladders and advice on the use of each model.
Starting with an 8ft diameter round model for kids up to about 10 years old, Supertramp trampolines go right up to a huge 14ft in diameter for the biggest of gardens. Unusually, Supertramp also make a series of rectangular trampolines for superior bounce and activity. Proudly made in the UK these superior models can be bought with nearly 120 springs and as large as 14ft long and 7ft wide – the size of a competition model.
Safety enclosures for the round Supertramp trampoline models are a great idea to help avoid children bouncing off the sides and with safety pads installed around the metal frame the possibility of an accident is reduced to the minimum. Whilst the canvas trampoline mats are weatherproof, Supertramp also sell a waterproof cover for the harsh winter climate when the trampoline probably isnít being used.
RECOMMENDED RETAILERS

Amazon
The world's most famous online retailer sells an unparalleled selection of toys.
Buy Supertramp Trampolines now >>

Cheeky Monkeys
An independent and family run online business selling indoor and outdoor toys.
Read more about Cheeky Monkeys >>