Teamson Toys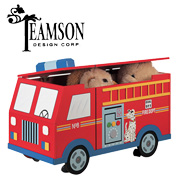 Based in the USA, Teamson wooden children's furniture is some of the most imaginative and colourful that any parent could buy to furnish their child's room. Every single piece is painted by hand by their gifted artists - this gives every item a beautiful and unique finish. Using themes like 'sunny safari', 'under the sea' or 'wings and wheels', each co-ordinated set of Teamson tables and chairs, toy chests, lamps or benches creates a matching set of furniture that will last a lifetime.
Little girls just love the 'magic garden' collection of Teamson furniture with its beautiful painted butterflies, frogs and flowers with pastel backgrounds. There's even a mirror, bookshelf and rocking chair in this imaginative set. What little boy wouldn't like the Thomas & Friends painted chairs, tables, chests and even book ends to decorate their room! The exquisite Teamson potty chairs make toilet training a doddle, and some can even be converted into proper chairs for later use.
Many of the ranges are sold in the UK by a small selection of Teamson shops, and represent fantastic value for money for such bespoke items. High quality in both manufacturing and painted finish are hallmarks of Teamson's furniture, and customers can buy with confidence knowing that they are purchasing pieces that can be handed down through generations.
RECOMMENDED RETAILERS

Amazon
The world's most famous online retailer sells an unparalleled selection of toys.
Buy Teamson furniture now >>

Smart Start Toys
Wide range of innovative and traditional toys that are fun yet educational.
Read more about Smart Start Toys >>