Teifoc Toys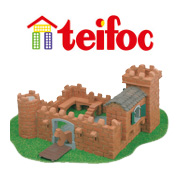 Teifoc toys are absolutely perfect for the budding builder who wants to get a feel for making their very house, castle or garden totally from scratch. Unlike any other major construction toy on the market, Teifoc toys are miniature model buildings that are made from real bricks and cement!
The bricks that come with Teifoc toys are made from clay and are perfectly strong enough to make a sturdy construction with. The real beauty of them however, is that they can be dissolved in water and used again. Although we have never tried it ourselves, reviews of Teifoc toys do suggest that this toy can be used on a kitchen work surface and be easily washed off at the end.
Each Teifoc kit includes some drawings to help fire the imagination, but ultimately children can let their imaginations run free and construct any kind of building they like! Kits include castles, houses, cottages and gardens, but children are encouraged not to be restricted by what the picture on the packaging shows!
RECOMMENDED RETAILERS

Amazon
The world's most famous online retailer sells an unparalleled selection of toys.
Buy Teifoc toys now >>

Crafts 4 Kids
Online retailer of creative, educational, wooden and activity toys.
Read more about Crafts 4 Kids >>