Tosy Toys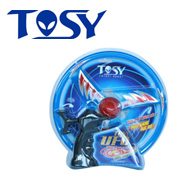 After many years of industrial robot engineering and manufacture, Vietnamese company Tosy broke into toy making in 2002. The company motto is "Creativeness and Modern Technology are Key Factors for Success", and with that in mind Tosy toys are a small part of the products that have evolved from that mission statement.
The Tosy TOPIO ping pong robot made a big impression upon visitors to the 2007 Tokyo trade show, and with continual development work on his robotic sensors, he's well on the way to playing table tennis against almost anyone! Tosy toys include the world's first radio controlled football – once the controls have been mastered it's easy to dribble around opponents and even score a goal. The amazing Tosy UFO Returning is a technological twist on the famous Australian boomerang. Always returning to the thrower, it even has led lights that come on automatically at night.
New Tosy toys are always in development alongside the giants of the robotic world, with the radio controlled Gyrobot being another fascinating innovation. Kids would love to own Tosy TOPIO Tiny – a 56 cm tall robot with infrared remote control. He can walk, dance, balance on one leg and even get up if he falls over! Tosy toys are innovative and exciting, and will be a part of the move towards highly sophisticated robotic toys of the future.
RECOMMENDED RETAILERS

Amazon
The world's most famous online retailer sells an unparalleled selection of toys.
Buy Tosy toys now >>