Uncle Milton Toys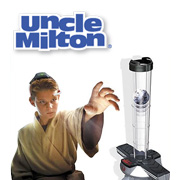 Uncle Milton has been trading since 1946 and works primarily in the science, nature and technology toy categories. The company is particularly well known for their Ant Farm brand which enables children to see inside the subterranean world of ants and investigate how they live.
Since the turn of the century, Uncle Milton toys have tended to have more of a high-tech focus. This is most evident in their Star Wars Science range that features The Force Trainer, a natty little product that enables children to move objects using nothing other than the power of their minds!
The science toys produced by Uncle Milton strike the perfect balance between being fun and engaging, and teaching kids about the world around them at the same time. Always intriguing and never too serious, Uncle Milton's toys continue to open children's eyes to the wonderful world of science and nature.
RECOMMENDED RETAILERS

Amazon
The world's most famous online retailer sells an unparalleled selection of toys.
Buy Uncle Milton toys now >>