Valtech Magna-Tiles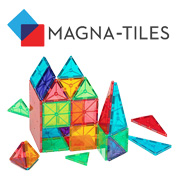 Valtech is a family-owned business that focuses on the design, manufacture and distribution of educational toys that incorporate learning into play. Started in the 1990s by Rudy Valenta, it has seen great success in their products in the US and International Markets as they deliver fun and exciting products. Their company tagline of, "Where Math, Science, and Creativity Meet", can be seen in all of their products.
Their selections include iconic 'Magna-Tiles' which are loved by parents and educators. They foster creative, unplugged, interactive play at home, in the classroom, and everywhere in between. Valtech strives to always be a market leader in innovative educational products.

Magna-Tiles are innovative, magnetic building tiles that are designed to appeal to a child's interest and attention, as well as build critical developmental skills. They also promote creativity and imaginative play. Made from a high quality durable plastic, Magna-Tiles come in a variety of geometric shapes and sizes that adhere magnetically on each side. Builders big and small lose themselves in creating amazing structures without realizing that they also are building the foundation for Science, Technology, Engineering, Art, and Math (STEAM).
Playtime becomes a fun, cognitive workout with right-brain artistry partnering with left-brain problem solving. Magna-Tiles are a rare activity that the whole family truly can enjoy together. The tiles are easy for little hands to manipulate, yet challenging enough for older kids. Children absorb themselves for hours in play while building remarkable Magna-Tiles shapes, structures and inventions. In less than 20 years, Magna-Tiles has become a "must-have" for families and early-childhood educators.
RECOMMENDED RETAILERS

Amazon
The world's most famous online retailer sells an unparalleled selection of toys.
Buy Valtech Magna-Tiles now >>