Vic The Viking Toys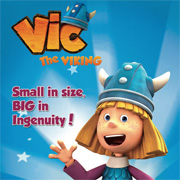 With the tagline "Small in size, BIG in Ingenuity", Vic The Viking has captured the hearts and minds of children all over Europe. Coming from a forceful Viking family, Vic prefers to solve all his problems using brain power rather than by force! When he rubs his magic nose, Vic has all sorts of brainwaves and can see his way through very complex circumstances.
Halvar the Viking Chief is Vic's father – he keeps a careful eye on his son's huge powers and antics whilst out on marauding voyages at sea.
Whilst Vic The Viking toys are still in the planning stages, several major toy companies have expressed an interest in creating action figures, collectable figurines, playsets, games and other toys based on the show.
RECOMMENDED RETAILERS

Amazon
The world's most famous online retailer sells an unparalleled selection of toys.
Buy Vic The Viking toys now >>