Wall-E Toys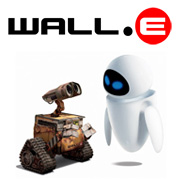 One of the very best Disney/Pixar films of recent times is set 700 years in the future and follows the life of WALL-E (a robot, short for Waste Allocation Load Lifter Earth-Class) who has been left to clean up the planet after all the humans have left. Then EVE arrives and the fun begins!
As a robot, he is the perfect subject for WALL-E toys of all sorts. Remote controlled and talking versions are available as well as many other characters, mini figures and the most awesome of all, a radio controlled WALL-E toy with no less than 10 motors! Play balls, TV Games, collector cards, plush and transforming figures are amongst the many other WALL-E toys available.
RECOMMENDED RETAILERS

Amazon
The world's most famous online retailer sells an unparalleled selection of toys.
Buy Wall-E toys now >>