Wild Republic Toys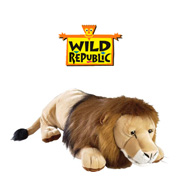 Wild Republic soft toys are probably the first products that consumers encounter with this company, which was established in 1979. With a great emphasis on educating kids about the natural world, Wild Republic toys educate and delight kids with their extensive ranges of toys and gifts.
The Wild Republic soft toys are accompanied by unique gifts, toys to aid development and some interesting play sets. The fabulous soft toys have an interesting slant on being different, and probably only Wild Republic could make a snail look attractive! A series of puzzles featuring sharks, animals and dinosaurs is also incredibly popular, as are the wild life hand puppets that can be made to look fearsome or docile.
The designers of Wild Republic soft toys have a knack of picking some really interesting subjects to create soft toys. Sea turtle, silverback gorilla, snow leopard, red octopus, penguin, scorpion and squid are just a few of the more unusual subjects which make it into the ranges. Cuddlekins is another out of the ordinary range that even makes T-Rex seem lovable! A wide distribution network ensures that customers almost anywhere in the UK can find a shop or website that can sell them exactly what they want.
RECOMMENDED RETAILERS

Amazon
The world's most famous online retailer sells an unparalleled selection of toys.
Buy Wild Republic soft toys now >>