Wombles Toys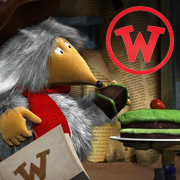 First seen on TV in the mid 1970s, The Wombles were created in a series of books by Elizabeth Beresford. At that time, soft toy versions of all the favourite characters were quickly snapped up by all the shows fans. As characters who spent their days devising ingenious ways of recycling rubbish on Wimbledon Common, they can now be seen as founder members of the Green Party!
2015 sees the return of The Wombles in a new TV series together with books, comics, online games and even a full length feature film. Vivid were awarded the master toy licence and are hard at work creating soft toys, plastic figures, playsets and vehicles that replicate those seen in the TV show.
Many parents will be thrilled to hear of the return of Great Uncle Bulgaria, Tobermory, Madame Chloe, Orinoco, Wellington and Shansi amongst many other characters. Expect to see plush toys in several sizes as well as talking versions. They're sure to speak the famous Wombles motto of "Make Good Use of Bad Rubbish"
Mary Wood, Marketing Director at Vivid said, "Endorsed by families who remember the original phenomenon, The Wombles has a gender-neutral appeal with instant brand recognition. As well as the nostalgia behind the brand, the re-launch will target a new generation of fans, widening the appeal."
DISTRIBUTORS

RECOMMENDED RETAILERS

Amazon
The world's most famous online retailer sells an unparalleled selection of toys.
Buy Wombles toys now >>