Zombie Zity Toys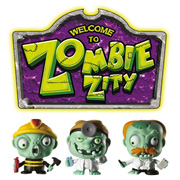 Zombie Zity Swobblerz characters by The In Thing were described by Toxic magazine as "Scarily good!" Created by noxious fumes from a city swamp, every living person in the town was transformed into an amusing Zombie who wasn't even aware of the startling change to his appearance!
With over sixty different models in the range each with swappable heads, the permutations of unique figures are almost endless! Some figures are packed with either a street scene fire hydrant or lamp post for extra play value. A smash and grab tow truck tours the city looking for smashed up vehicles or even buildings.

More fun is provided with the Zombie Zity Bouncerz collection. These blind bagged micro figures can be squashed, thrown and bounced all over the place. Rare glow-in-the-dark variations are ones to watch out for, and create an element of playground collectability and swapping.
RECOMMENDED RETAILERS

Amazon
The world's most famous online retailer sells an unparalleled selection of toys.
Buy Zombie Zity toys now >>