ZooBooKoo Educational Toys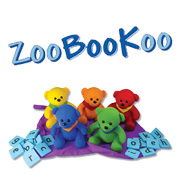 ZooBooKoo is a family run business that has been established since the year 2000. As suppliers of a wonderful and diverse selection of educational products that are inspired by their children, their ethos statement is a simple but effective "fun, facts and form". By developing toys in which a child can find new elements as they grow, there is far greater value for money and education than other toys that soon get discarded.
Their fantastic cube system is widely used in many of ZooBooKoo toys, and with their clever folding systems, kids can have so much fun exploring these 'books' as well as gaining a huge amount of information about their chosen subject. These topics include amongst others, dinosaurs, animals, the human body, literacy and number games as well as science and sport. Other items like magic mats, secret scholar booklets and dice games are all part of the amazing ZooBooKoo toys portfolio.
Products are clearly defined by age groups and include toys for children as young as three, up to families and 'big people' with more advanced games and detailed learning cubes. ZooBooKoo toys are inspiring and fun with a very strong educational theme running through every product.
DISTRIBUTORS

RECOMMENDED RETAILERS

Amazon
The world's most famous online retailer sells an unparalleled selection of toys.
Buy ZooBooKoo toys now >>

WoWHoW
A wide range of children's quality educational toys, games and books.
Read more about WoWHoW >>