Benefits of an Enhanced Supplier Profile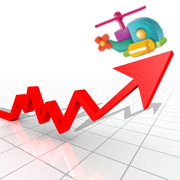 Introduction
Designed in collaboration with leading suppliers from the UK toy industry, our "Enhanced Supplier" service enables you to promote your business to our audience of 10,000 unique visits/day in a more prominent and sophisticated way than ever before.
What you get
In addition to a simple company description, our Enhanced package comes with a raft of features that enable you to customise your Toy Shop UK profile to appeal to consumers, the trade, or both.
Add enough information to your listing and you could be featured in the "Popular Toy Companies" box that appears in the right-hand column of every page of this website.
As a subscriber you will have complete control over the information you display. All sections are completely optional, meaning you can create a profile that is perfectly tuned to your requirements.

Administering your profile
You can edit your profile 24/7 via an easy-to-use Online Admin Area. We're on hand to provide free ongoing support in-case you have any questions.

What you can display
• Website link
• Social media links
• Contact details
• Recommended stockists
• Product photos and descriptions
• Awards
• Safety credentials
• Association memberships
• Company history
• Company stats
• Key personnel
• Job vacancies
• Trade show attendance
• Turnover
• Number of staff
• Supported charities
Cost
• £240/year That's just £20 a month (no VAT required)