Children's Toy Boxes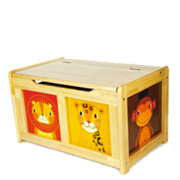 Children's toy boxes come in a huge number of shapes, colours and styles. In their traditional form, they would be a large wooden container or trunk, probably varnished, and would have been handed down through several generations of a family. These kinds of storage solutions are still made by several specialist toy box companies scattered across the UK. Many of them still produce highly-personalised toy boxes made from good-quality, solid oak wood.
Many modern homes however, need smaller storage solutions, and these can often be integrated as part of larger room furniture. In their simplest form, toy boxes can consist of a simple, stacking plastic system with a lid to match. These also normally nest inside each other when not in use to save valuable space.
The biggest growth in sales of toy storage solutions however has been in the area of personalised and branded toy chests that can decorated with images of your child's favourite cartoon, film or TV character. They are often bought in kit form which can be glued, screwed or clipped together. These toy boxes can be used in the room, kept in a cupboard, or will often be stored underneath a child's bed. Some boxes even have castor wheels attached for easy moving around the house.
FEATURED RETAILERS

The world's most famous online retailer sells an unparalleled selection of toys.
Visit Amazon Now >>

There's far more to this innovative company than just a kids ride-on suitcase.
Visit Trunki Shop Now >>

A manufacturer of high quality personalised children's toy boxes and furniture.
Visit The Posh Box Company Now >>
OTHER RETAILERS