History of Exeter's Pram and Toy Shop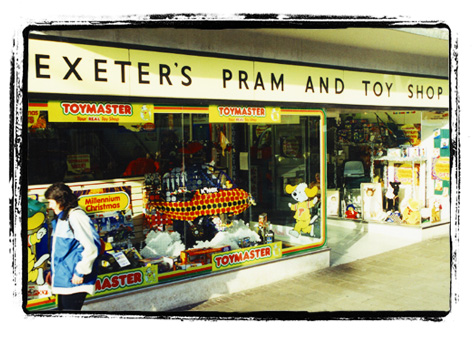 For the best part of a century, a countless number of Exeter's youngsters flocked to the city's best known toy store… Exeter's Pram and Toy Shop. Although the business closed its Sidwell Street doors for the final time in September 2000, utter its name to any Exonian and you're likely to hear tales of the slithery stair-rail, the Stork on the side of the building; or maybe even the Noah's Ark van that used to deliver presents to enchanted kids of the 50s in a superb piece of guerrilla marketing.
Thanks to Tim Hawkins, one of the 3rd generation of Exeter's Pram and Toy Shop owners who co-steered the business through rapid change and expansion from the 70s to the noughties, we're able to bring you a history of this much-loved Exeter institution.

Help us capture a piece of this store's history by emailing us your images, memories or anecdotes. We'd love to know what defines Exeter's Pram and Toy Shop for you.
-----------------------------------------------------------------------------------
Originally founded by Percy Hawkins in 1909 at 43 Sidwell Street, the first shop was then known as Exeter Cycle Works. The business of selling and servicing bicycles was soon expanded with the introduction of a very popular phenomenon – gramophone records! Although this may seem like a strange mix of products, it was fairly common at the time because the bicyle engineers could utilise their mechanical skills on gramaphone players!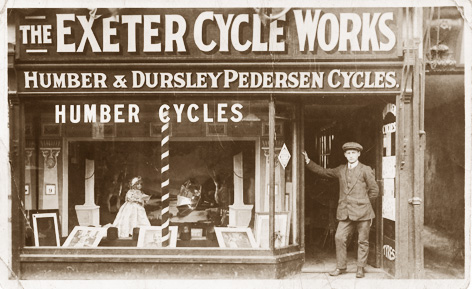 A number of Exeter based shops such as Moons and Godfrey and Co. also jumped on the gramaphone band wagon which was as exciting for people in that era as the introduction of the iPod in 2001. Around 1928 the business expanded and moved to 116 Sidwell Street with another shop coming later at 174 Sidwell Street which had a large baby car and toy department.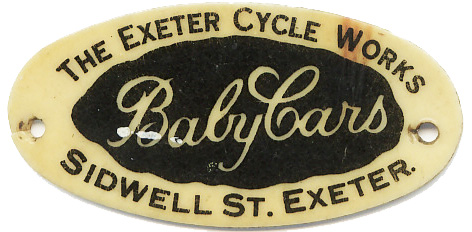 Once the Luftwaffe had finished bombing and flattening most of Exeter during World War 2, trading continued at 174 with more of a focus on the nursery and toy side of the business. Percy's sons, Jack and Ted, who took over the running of the business, decided that Exeter Cycle Works was too out of date with the shops current offerings and changed the name to Exeter's Pram and Toy Shop.
174 Sidwell Street was a rambling building with several showrooms spread over two floors. A large workshop at the rear of the premises (run by 'Uncle' Bert Hooper) ensured that repairs to prams, cycles and toys could be carried out as swiftly as possible. Bert was in fact the uncle of one of the company's other longest serving employees, Jeanne Chapman; both of whom proudly received gold watches on their retirement.
In the days when customers hardly ever collected their purchases by car, the Hawkins brothers had the brilliant idea of commissioning a special delivery vehicle – a Noah's Ark! This fantastic vehicle delivered prams and toys to customers all over Devon, and was one of the finest pieces of advertising in its era. It was so popular, that kids would wait at home just to see their toys delivered in it!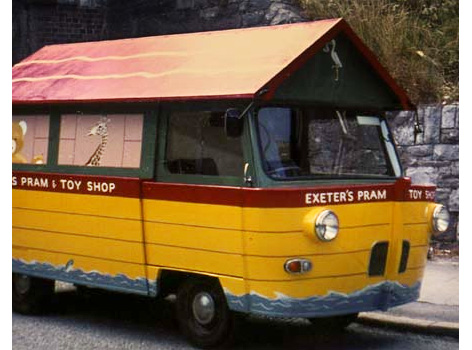 During this time, Exeter was being re-built after the Blitz, and eventually the Exeter City Council decided that the block of shops that contained 174 Sidwell Street should be demolished to make way for more modern buildings. Jack and Ted Hawkins were offered a site next door to another redevelopment at the lower end of Sidwell Street where a huge new shop was being built for Bobby's department store, latterly Debenhams.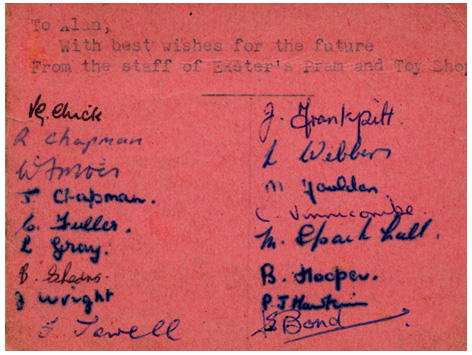 This 'best wishes' card from August 1961 was kindly supplied by Alan Fereday. He worked in the Model Department at weekends and holidays whilst studying at Hele's School in Exeter.
The new modern Exeter's Pram and Toy Shop at 12 Sidwell Street opened for business in November 1963. It was actually on such a steeply sloping site that it was built on 5 floors – two huge shop floors of 7000sq ft were supplemented by a large stockroom and basement levels for deliveries and staff quarters.
The ground floor was fitted out for the customary enormous selection of prams, pushchairs and nursery furniture, with the upper floor being totally devoted to toys and models. The customer staircase to the first floor was fitted with two painted 'snake' stair-rails at just the right height for all the junior customers who would be flocking to see the latest toys and gadgets. These stair-rails soon became a city wide talking point, and much appreciated by parents of small children. A huge wrought iron outline of a stork carrying a baby sling in its beak was commissioned for the side of the building facing down the High Street, and this was as much a talking point as the famous handrails.
Percy's two grandsons, Peter and Tim Hawkins gradually took over the running of Exeter's Pram and Toy Shop and constant adjustments were made to shop layouts to reflect changing customer requirements and fashions. A large showroom extension on the first floor added another 2000sq ft of trading space that allowed a much larger range of outdoor and garden toys to be displayed.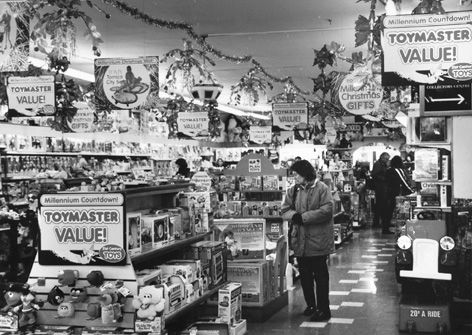 Customers were king of course, apart from the one irate father who presented an empty clockwork boat box on the counter and demanded his money back. He claimed the boat had sunk halfway across a deep pond! A discussion of events took place, and an amicable agreement of 50/50 responsibility was agreed upon!
Special character visits were becoming all the rage, and a memorable one in the 1980s saw Darth Vader, Boba Fett and a Stormtrooper almost besieged by the hundreds of Star Wars fans who had turned up to see their favourite film characters. The girls weren't disappointed with a visit by Barbie who happily posed with hundreds of Exeter girls who turned up to have their picture taken with this iconic mega star.
Membership of the Toymaster buying group helped the business gain even more prominence as a specialist toy shop which endorsed all the values of Real Service and Real Value. Toymaster's puppy mascot even made a personal visit one Christmas to meet all the shoppers!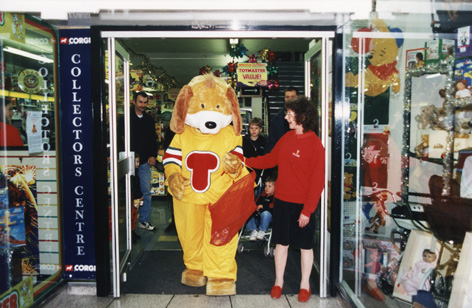 Peter and Tim expanded the business using the Toymaster name to open other smaller shops in Exmouth, Taunton, Newton Abbot and Barnstaple. Distribution then took place from a large warehouse on Sowton industrial estate.
As time moved on, more and more shops in Exeter decided to try for a slice of the toy and nursery business, and the advent of out of town multiple trading gradually took its toll on this much loved and popular Exeter shop, that was almost an institution in its own right.