Quadrilla Basic Set
No customer reviews yet. Be the first.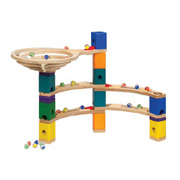 The Quadrilla Basic Set is a high quality wooden marble run which is suitable for anyone between 4 - 99 years of age. It comes beautifully packaged in box with a carry handle so all of the pieces can be easily stored easily for future play. The Basic Set includes 49 pieces of marble run equipment, 50 marbles in a bag and an instruction booklet with some design ideas. Clever parts include accelerators to speed up the marbles.
As with all other marble runs from Quadrilla, this is great educational game that provokes problem solving skills. The simple, easy to construct design means that you to can create a masterpiece! Endless runs can be made and once you have mastered this basic set - there are expansion sets available which can be added to create bigger and better marble runs. We're not sure who will enjoy this product more... the children or the adults!
The Quadrilla Basic Set is a great stating point and really gives you a feel for the brand. It won't be long before you are wanting to add to this great basic set. The parts are all very well made and the the finish is of a great quality.
The Quadrilla Basic Set is CE Tested and ASTM EM 71 certified.
RECOMMENDED RETAILERS

Amazon
The world's most famous online retailer sells an unparalleled selection of toys.
Buy the Quadrilla Basic Set now >>