Rainbow Sound Blocks
No customer reviews yet. Be the first.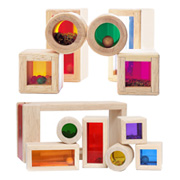 Wonderworld's Rainbow Sound Blocks are beautifully made wooden blocks designed for children of 24-months and older. Made from high quality wood from a replenishable source, the blocks have a coloured perspex centre which makes them extremely attractive to look at and a highly visual toy for young children to explore colour. The various shapes contain different rattle sounds and can be built in a variety of combinations in or out of the wooden frame provided.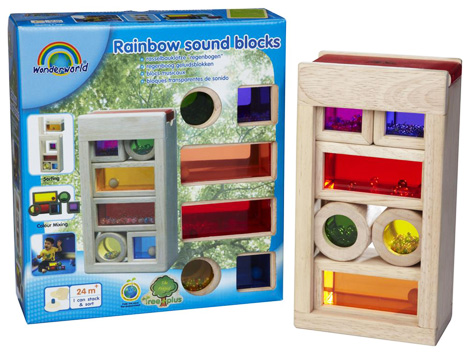 Babies and toddlers will enjoy the feel and textures of the wood, the smoothness of the perspex inners and the site and sounds of the rattles. Use these Rainbow Sound Blocks to make music, match them with a second set of blocks, build towers and houses or combine the colours against a light to see what new colours can be created. The possibilities are endless and play time will be enjoyable for the child and the parent!
Wonderworld's Rainbow Sound Blocks are a delightful sensory, tactile toy and have been a bestselling and highly recommended toy for many years. Recently redesigned for even greater strength and quality, they make a wonderful gift and will look fabulous either on display against a sunny window or while being played with.
The colourful and tactile nature of Rainbow Sound Blocks has also made them a favourite among parents of children with all kinds of special needs.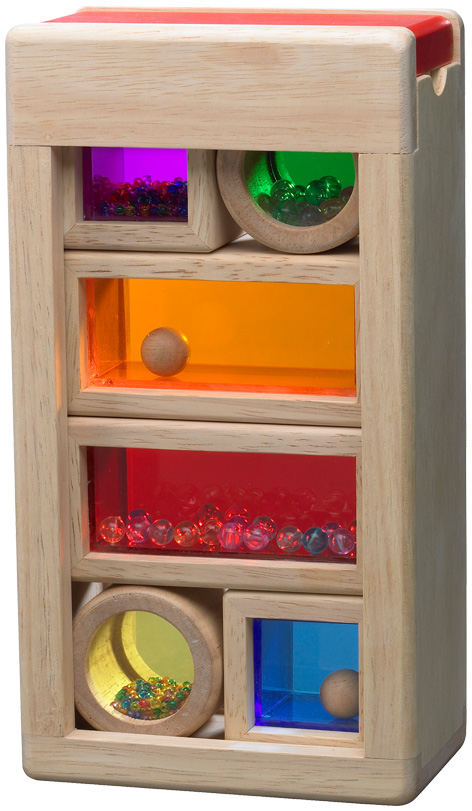 This Rainbow Sound Blocks review was written by Play Merrily Toys.
RECOMMENDED RETAILERS

Play Merrily Toys
Dolls, soft toys, craft kits, baby gifts, wooden toys and educational jigsaws.
Read more about Play Merrily Toys >>

Amazon
The world's most famous online retailer sells an unparalleled selection of toys.
Buy Rainbow Sound Blocks now >>