Anomia
(1 review)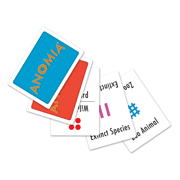 Anomia: (uh-No-mee-uh)
1) A problem with word finding or recall.
2) Chaos.
3) The game where uncommon knowledge is uncommonly fun!
Winner of 'Best Party Game' at UK Games Expo 2014, Anomia is a card game that will have you 'umming', 'aahhhing' and tripping over your words. It's a beautifully simple game – each card features a symbol and a category. Players take it in turns to take the topmost card from one of the deal decks and turn it over quickly, placing it in front of them.
Everybody needs to pay attention because the turn of a card will reveal a new symbol and category. If the symbol on your cards matches another players card it's a race to shout out an object from the category on your opponents card before they can shout out an object from the category on yours! Can you think of an ice cream flavour before your opponent can think of a football team? More importantly can you shout it out before them!?
There are two decks to play with - use either the blue or the red deck or mix them up – you have a total of 100 cards in each deck and 8 wild cards to keep everybody on their toes. It can be anyone's turn to 'think of a thing' at the turn of a card so you need to keep your wits about you.
RECOMMENDED RETAILERS

Amazon
The world's most famous online retailer sells an unparalleled selection of toys.
Buy the Anomia now >>